2020, the new year and the new decade. No one can predict the future, however, looking at the latest design introductions and how they are being incorporated into homes can be a litmus test for the latest trends. Here's a sneak peek at Interior Design Trends in 2020 that will be making a splash this year.
Kitchens
Color. Kitchens are the heart of the home so it's only natural that many of the 2020 trends are finding their way here. Let's start with cabinetry color. Painting existing kitchen cabinets will continue to trend into 2020.  Last year saw quite an increase and there is no indication this will change this year.  Here's where you can be creative and pick a new color to enhance your current kitchen design or completely change it.  Keep in mind that blue will continue to be a popular cabinet color as will black. Too dark? The dark hues can be offset using a soft white color to balance out the space. Conversely, using all soft colors in a kitchen continues to remain strong in 2020.  Picture soft gray cabinets with soft satin-brass fixtures, a light-colored backsplash and quartz countertops. Two-tone cabinets are still very popular.  Whether the cabinetry perimeter is one color and the island another color or the upper cabinets are one color and the lower cabinets are another, bringing in another hue adds to the overall aesthetic of the space.  Taking it a step further, a new trend is to add a third color to the kitchen design.  The third hue identifies a specific area like a wall pantry or
focal feature, guiding the eye throughout the space. "Designer Lisa Furey used a three-tone strategy in this kitchen, which is one of the most popular kitchen photos uploaded to Houzz in 2019", according to Mitchell Parker, Houzz editorial staff.  "The sage-green cabinets surround a dark stained wood island base, while an inky painted window frame (Wrought Iron by Benjamin Moore) punches up the design considerably."
Wood. Stained wood cabinetry is making a resurgence. The new stains are incredible and go with today's new paint colors. "If there's one wood that might outshine them all in 2020, it's walnut. Walnut is such a naturally rich, warm, elegant and inviting wood, which makes it perfect for lively kitchens. Walnut pairs beautifully with whites, grays, blues and brass tones — all popular colors in modern-day kitchens. It's no wonder that designers and homeowners like it," says Parker. Wood is also showing up as interesting
detail on range hoods like this hood by Wellborn Cabinets and in wood doors on painted cabinetry.  Both enhance the look of the kitchen aesthetic, breaking up copious amounts of painted cabinetry.
Backsplash. The choices of backsplash tile can be overwhelming. Traditional subway tile? Mosaic? Gloss vs matte?  The list goes on.  Popular is taking the countertop material and bringing it up to the backsplash.  A slab backsplash adds a dramatic flair and best of all, there are no grout lines!
Countertops. Newcomer porcelain is making headway as a countertop.  Engineered quartz accounts for just over 50% of the current countertop choices. However, porcelain is gaining in popularity. Porcelain delivers a more polished look with the same durability. Porcelain, like engineered quartz, is stain and heat resistant. It mimics natural products but without the maintenance. Quartzite is overtaking granite as the most requested countertop in the natural stone category.  Quartzite is harder than granite and displays infinite variation, meaning no two slabs ever look the same. Want a different look for your kitchen island countertop than your perimeter countertop? Butcher block or a wood slab may be the perfect choice. "Recent Houzz research reveals that among renovating homeowners who want a contrasting island material, 41% choose butcher block or a wood slab, followed by a distant 28% who choose engineered quartz," according to Parker.  Parker goes on to mention that the actual island cabinet color choices include wood.  "While the latest Houzz research shows that renovating homeowners who are upgrading their island and choosing a contrasting cabinet color will select a gray (26%), blue (19%) or black (11%) island, wood islands are becoming popular.  "In fact, the choice of a medium-tone wood island by homeowners matches that of black (11%)."
Customize. Bring your personality further into the space with new customization options.  From a farmhouse sink with six decorative, changeable insert options by Kohler, to Dacor's DacorMatch Color System that will allow you to customize their Heritage ranges in any color imaginable. You can even find faucets that allow you to mix metals like
Moen's Nio faucet.
Islands. Kitchen islands are the gathering spot…it's where we congregate.  It is not surprising then that more enhancements are available.  The size of islands is increasing and as a result, microwaves, dishwashers, vegetable sinks with a second garbage disposal, and even cooktops find themselves housed there. Great for a second work zone and for family gatherings.  Add a beverage center so the kids aren't constantly going in and out of the refrigerator.
Go big with pendants. Interior design trends in 2020 include the use of larger pendant light fixtures in the kitchen. They are works of art and make a strong statement in the space. 2020 will see more of the same bold lighting approach.
Bathrooms
Imagine the Possibilities. Bathrooms are undeniably changing to include both form and function.  One of the most popular interior design trends in 2020 is the zero-entry shower.  Just walk right in without the curb to step over. This feature appeals to everyone, not just to those that are aging in place.  It also gives the space a more open aesthetic.  The space, if large enough, can also be incorporated into a wet room by adding a bathtub so that all the "wet" areas are combined into one area. More trends for bathrooms include floating vanities, lighted mirrors, and seating (no, not the toilet seat).  Floating vanities help when you want to open a space, especially a smaller bathroom.  Seating in a bathroom could be a built-in bench or a comfy seat to simply relax in for a bit. Lighted mirrors continue to trend in 2020 as they are beautiful and fulfill lighting needs.
Gathering spaces
Well-being. There's a sea change occurring with gathering spaces to incorporate a sense of calmness and contentment.  Pantone's Color of the Year PANTONE 19-4052 Classic Blue is a comforting color. "It's a reassuring blue, full of calm and confidence. It builds connection," says Laurie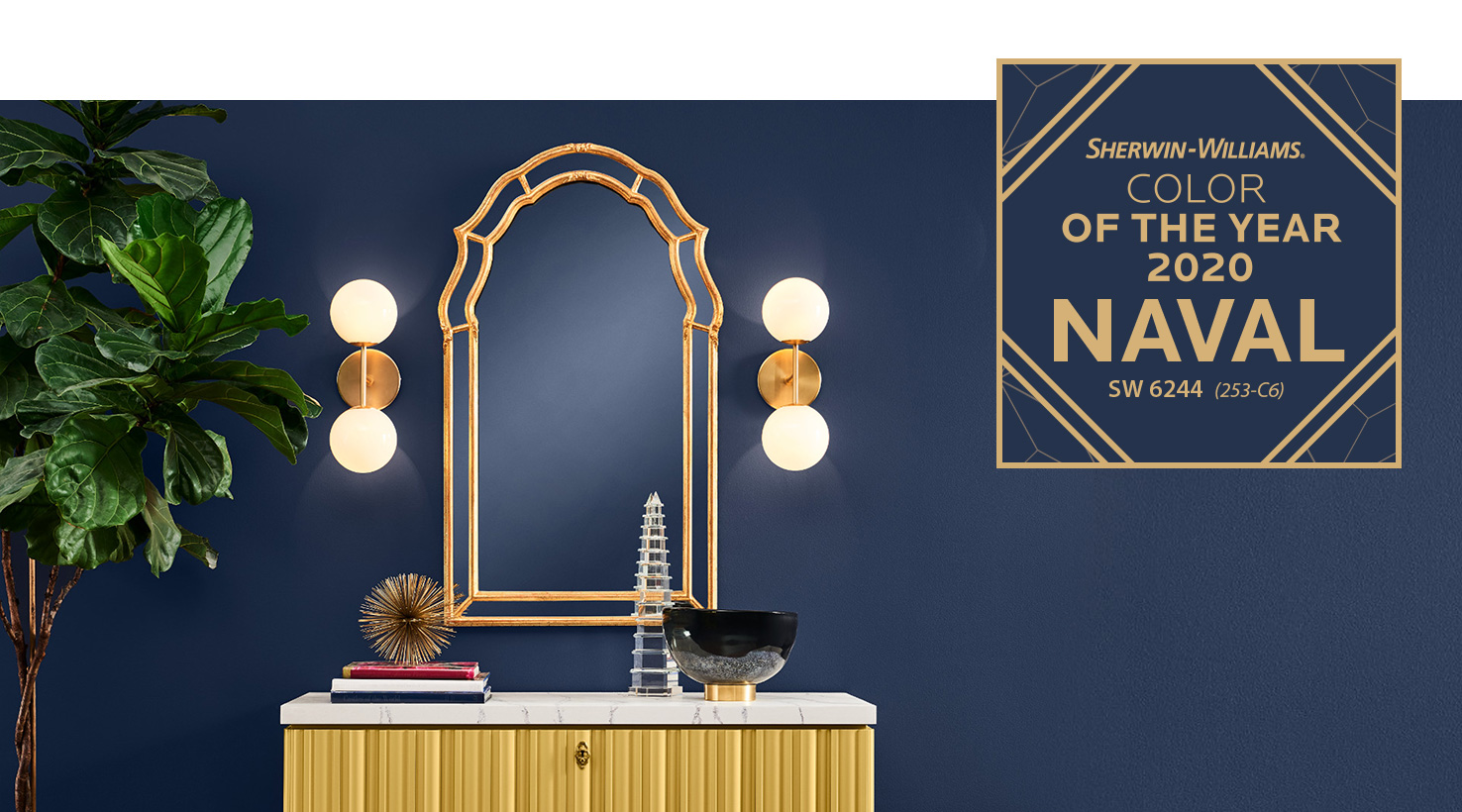 Pressman, Vice President of the Pantone Color Institute. The same holds true with Sherwin-Williams' 2020 Color of the Year: Naval SW 6244, a rich navy hue that strikes a balance between calm and confident.  "The use of color in interior design is changing. It's not just about what a space looks like anymore, but how it makes you feel," said Sue Wadden, director of color marketing at Sherwin-Williams. "People want to feel grounded and inspired to pursue their mental, physical and emotional well-being."  No matter the design style, an open and light space full of sunlight, thoughtfully placed furniture, soft hues and fabrics enlightens the spirit.
Laundry Shmaundry.  Interior design trends in 2020 include making the laundry room function more efficiently while being a space to enjoy…yes, enjoy. Today's laundry rooms feature patterned flooring and/or walls and energizing colors.  On the practical side, farmhouse sinks work to pre-soak dirty clothes and sports uniforms.  Some spaces include a round table and chairs for craft or gardening projects, built-in dog kennel and dog shower station, hutch or lockers for each family member to hang coats, put sports gear, and take off dirty shoes. Think mud room meets laundry room. 2020 design trends bring us together in warmth, peace, and harmony.  Take the time to explore possible ways to enhance your home that makes you happy and evokes comfort.  Time for a change and this is the year to do it.
Here's to a new year of possibilities!