Let's face it, we all probably hopped on the gray bandwagon, either willingly or unwillingly over the past several years. Walls, furniture, accessories, and construction materials, like tile and flooring, all contained gray color variations. Gray is still popular, but it is slowly giving way to beige. Yes, beige. Now don't groan those of you who remember the boring beige days popular 15-20 years ago. The new beige colors are spectacular! Current design trends are featuring, "earthy and warm neutral tones like beige, khaki, tan and greige (a mix of warm gray and beige) paired with trends such as nature-inspired looks and designs that promote wellness," says Houzz contributor Becky Harris.
Here we will look at several of my favorite go-to beige colors from Sherwin-Williams and Benjamin Moore. Take from my inspirations to seek out your favorite beige colors and incorporate them into your home. You'll find that the colors will add a calm, comforting and inviting feeling to your space.
Let's start with some of my favorite beiges from Sherwin-Williams:
Accessible Beige
The name speaks for itself. This is a tried and true paint color. Its chameleon color morphs to perfection in any space creating a softness and blending with other colors seamlessly. Whether you have a modern or traditional style, Accessible Beige provides a smart backdrop for other design elements.
Worldly Gray
Worldly Gray exhibits beiger tendencies to help soften a space. It is a true gray that doesn't feel too cold. Use this color to warm up a home with cooler gray tones. It has enough warmth to avoid the concrete feeling and it doesn't have any undertones of blue.
Natural Linen
This paint color keeps the mood light and airy. Natural linen works with warm and spicy hues. This color looks fabulous in coastal-inspired interiors.
Kilim Beige
Kilim Beige is ready to prove itself a worthy color as the pendulum swings back to soft neutrals. This color imbibes earthiness and brings softness into a room. It's grounding nature anchors a space and lends itself to beautiful combinations with today's blues and greens. Ahh, feel the freshness in the air!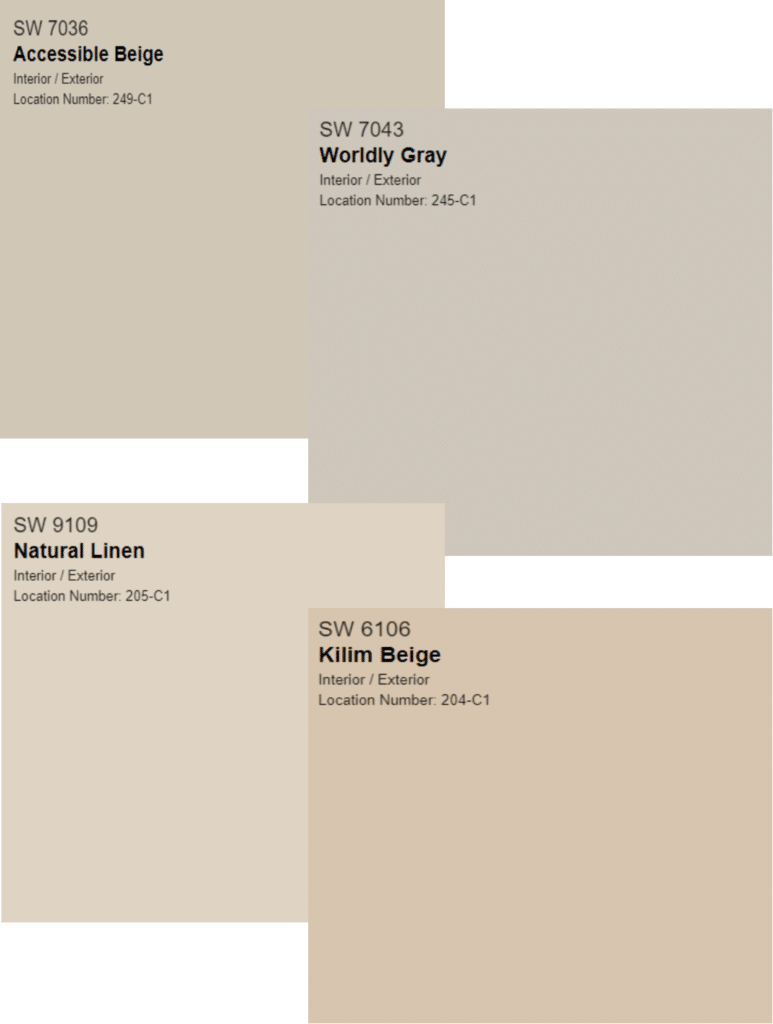 Like Sherwin-Williams, Benjamin Moore's collection of beiges excite the senses. Here are some of my beige quick picks from Benjamin Moore.
Revere Pewter
Benjamin Moore's Revere Pewter is light gray with warm undertones… a true greige. It allows the space to feel inviting by creating a comfy mood. Revere Pewter is soft and subtle while still being neutral. This classic shade creates a unifying look that calms and restores. A great transitional color, it's perfect for an open floor plan.
Stone Hearth
Stone Hearth is one of those warm, slightly darker, transitional colors that works well with existing gray tones. This color is part of the Classic Color Collection. It is timeless and elegant but forward. Pair it with BM Mt. Rainier Blue for a sophisticated look.
Pashmina
Pashmina works well with a wide range of browns as well as grays because its sandy hue gives it a chameleon-like quality. It is part of the Affinity Color collection. A sophisticated palette of harmonious hues. It can stand on its own or in combination with any other color in the Affinity palette.
It's time for a refresh from the grays of the past several years. By that I mean, you don't have to paint every gray wall in your home. Be choosy and pick a space to incorporate one of the new beige colors and update your design to promotes wellness. The new look will please the eye as well as the soul.
Wishing you and yours good health and well-being.